Principal's Corner - Jason Cook
3 months ago
Contact
662.456.3320 (HHS Phone)
662.456.3527 (HHS Fax)
jason.cook@houston.k12.ms.us
HHS News
about 1 month ago
HHS School choir performs
Let There Be Peace on Earth and Let It Begin With Me
Songs included: "Silent Night, Holy Night" by HHS Girls' Sextet, "Santa, Bring My Baby Back to Me" by 7th period class, "Jesus, Oh, What a Wonderful Child" featuring soloists LaShadrach Patrick and T'Kecia Beaty, "The Christmas Song," and "Mary, Did You Know" featuring violinist Laura Claire Moore.
HHS Junior Anthony Gonzalez selected for mississippi lions All-State band
Anthony Gonzalez, Topper Pride drum major, auditioned and made the Mississippi Lions All-State Band. He is one of only 128 high school musicians for the entire state of Mississippi to make this prestigious group and also one of only eight musicians in this group that play his instrument, the tuba, in the entire state. This group is not only recognized, but also get together and perform for a national contest against the other states during the summer. Not only that, but Mississippi has won 13 of the last 15 years. The contest will be held in Las Vegas. Mr. Eric Malone, band director, said, "I can speak personally on the HUNDREDS of hours he has spent practicing and preparing for this great honor. His dedication and self-discipline deserve to be recognized."
MSU President visits
hhs Juniors and seniors


Dr. Mark Keenum, Mississippi State University president,
stopped by Houston High School to speak to students about the changing times due to the advancement of technology, how these changes will affect the future and how MSU is preparing students for the changing workforce.


Top: Dr. Keenum, surrounded by HHS juniors/seniors, poses with HHS Principal Jason Cook after speaking.
Left: Dr. Keenum, with senior Peyton Brassfield and junior Blaize Gann, visited with students afterwards, inquiring about their future educational plans.
HHS/PACE Awards Ceremony
Students earn incentives for high and improved state test scores in Algebra 1, Biology 1, English 2 and U.S. History.
Incentives were funded by PACE (Partners in Achieving Community Excellence).
PERFECT SCORE AND/OR MULTIPLE AWARD WINNERS
Front Row: Joanna Vasquez (High Advanced English 2 & Advanced Biology), Emily Pettit (High Advanced Algebra 1 & Advanced Biology), Jasmine Rogers (Advanced Algebra 1 & Advanced Biology, and Abby Kate Boyer (High Advanced Algebra 1, Advanced Biology); Middle Row: Christopher Washington (Perfect Score Algebra 1), HSD Superintendent Tony Cook and Connor Moore (Perfect Score Algebra 1 & Advanced Biology); Back Row-PACE Board Members Tom Byrne, Bobby Mooneyham, Hassell Franklin and Frank Alford
PERFECT SCORES – Algebra 1
A.K. Davis (teacher), Connor Moore and Christopher Washington
ALGEBRA 1 ADVANCED AND HIGH ADVANCED WINNERS
Abby Kate Boyer, Haley Makamson, Emily Pettit, A.K. Davis (teacher), Jasmine Rogers, Kamryn Cooper, Connor Moore and Christopher Washington
BIOLOGY 1 ADVANCED AND HIGH ADVANCED WINNERS
Front Row: Jasmine Rogers, Emily Pettit, Joanna Vasquez and Nala Neely; Back Row: Abby Kate Boyer, Aquana Brownlee, Kelsie Hall, Summer McCarver (teacher), Carolyn Matthews (teacher), Tanner Gregory, Connor Moore and Christopher Washington
ENGLISH 2 ADVANCED AND HIGH ADVANCED WINNERS
Front Row: Chimique Ivy, Shelby Hatfield, Joanna Vasquez, Tkecia Beaty, Kennedy Burdine and Savannah Clark; Back Row: Ben Clark, Josh Scott, Steven Peel, JuiLondia Mosley (teacher), Mackenzie Criddle, Kyler Spencer, Katelyn Flake and Anthony Gonzalez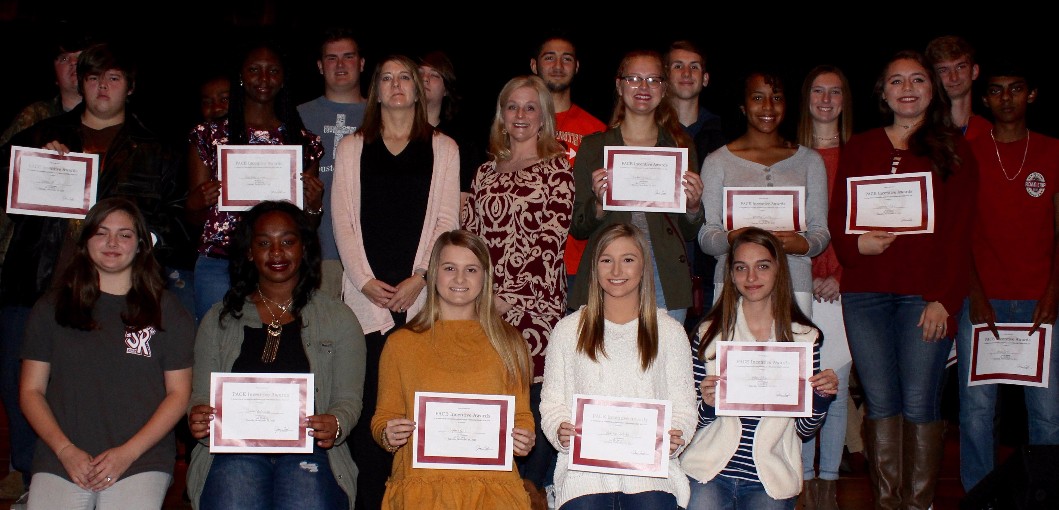 US HISTORY ADVANCED AND HIGH ADVANCED WINNERS
Front Row: Summer Carner, Queen Buchanan, Hanna Keith, Morissa Shettles and Abbie Mitchell;
Middle Row: Chance Hill, Kanazsha Cooper, Leisa Ellison (teacher), Cathy Spencer (teacher), Cortney Earnest, Arionna Gordillo, Cortney Ruth and Ajay Patel; Back Row: Jayden Reynolds, Karan Devould, Cody Voyles, Will Moore, Edgar Bedolla, Peyton Brassfield, Mackenzie Huffman and Tab Byrne
Students won a variety of incentives:
1) Students who showed growth and/or passed the state test earned a movie.
2 Students who scored proficient or advanced earned a movie and pizza in the park.
3) Students earned $50 for each test with an advanced level score.
4) Students earned $100 for each test with a high advanced level score.
5) Students earned $200 for each test with a perfect scale score.

Houston Hilltoppers will host 3rd round playoffs
Friday, November 17, 2017, HHS will host Yazoo County in the 3rd round of high school football playoffs. This is the Hilltoppers 3rd time to make to the 3rd round, but our 1st time to have the opportunity to host the game. Join us Friday night...admission is $8 and only State passes are accepted.
HHS Anchor and Student Council Host the Annual Veteran's Day Program
Each year the Anchor Club and Student Council host the Veteran's Day program which includes a reception hosted by the Pilot Club of Houston prior to the program. This year's speaker was US Congressman Trent Kelly. He is a Veteran of Dessert Storm and Iraq. He spoke of the Greatest Generation, WWII Veterans, and how we need to be more like them and never forget their sacrifice and service! Afterwards he spent time talking with students and veteran guests.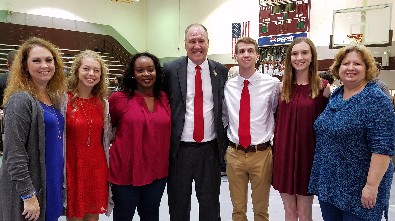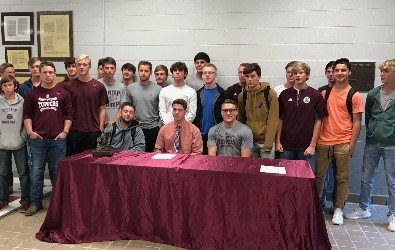 QUENToN MAY NAMED WENDY'S GIANT OF THE WEEK
Houston Hilltopper, Quenton May was named "Giant of the Week" for his outstanding performance on the field during the Houston vs Nettleton game! Quenton received $300 in Wendy's gift cards, and the Houston Touchdown club received a check for $250! Quenton's name is on the marquee in Pontotoc!
district 4-3A All region awards announced
Many of the Houston Hilltoppers have been given District Awards. For a list of those receiving awards check-out the Athletics/Football page
Hancock Named Wendy's Heisman Winner

Congratulations to Luke Hancock, HHS senior, as a Wendy's High School Heisman winner. Luke is the catcher for the Houston High School baseball team, where he was All-State in 10th and 11th grades, All-Division in 8th – 11th grades, 1st Team All-State 10th grade, and 4A All-State 1st Team in 10th and 11th grades. He has a 3.5 GPA. Luke plans to attend Mississippi State University and play baseball for the MSU Bulldogs. Luke is the son of Mark Hancock and Nikki Hall.



Congratulations to Ajay Patel, a senior at Houston High School, who recently scored a 31 on his ACT. Ajay is a member of the Cross Country Team, Student Council, Anchor Club, Beta Club and the Solar Car Team. He plans to attend either The University of Mississippi or Mississippi State University upon graduation. Ajay is the son of Kunthavai and Shailesh Patel.



Congratulations to Houston High School Junior Mackenzie Huffman, who scored 30 on her recent ACT test. Huffman is a member of the Topper Pride Band, Anchor Club, and FFA Chapter. Huffman plans to attend Mississippi State University and major in accounting or criminology. She is the daughter of Brand and Amanda Huffman.